sound of BLACK MILK electroacoustic gong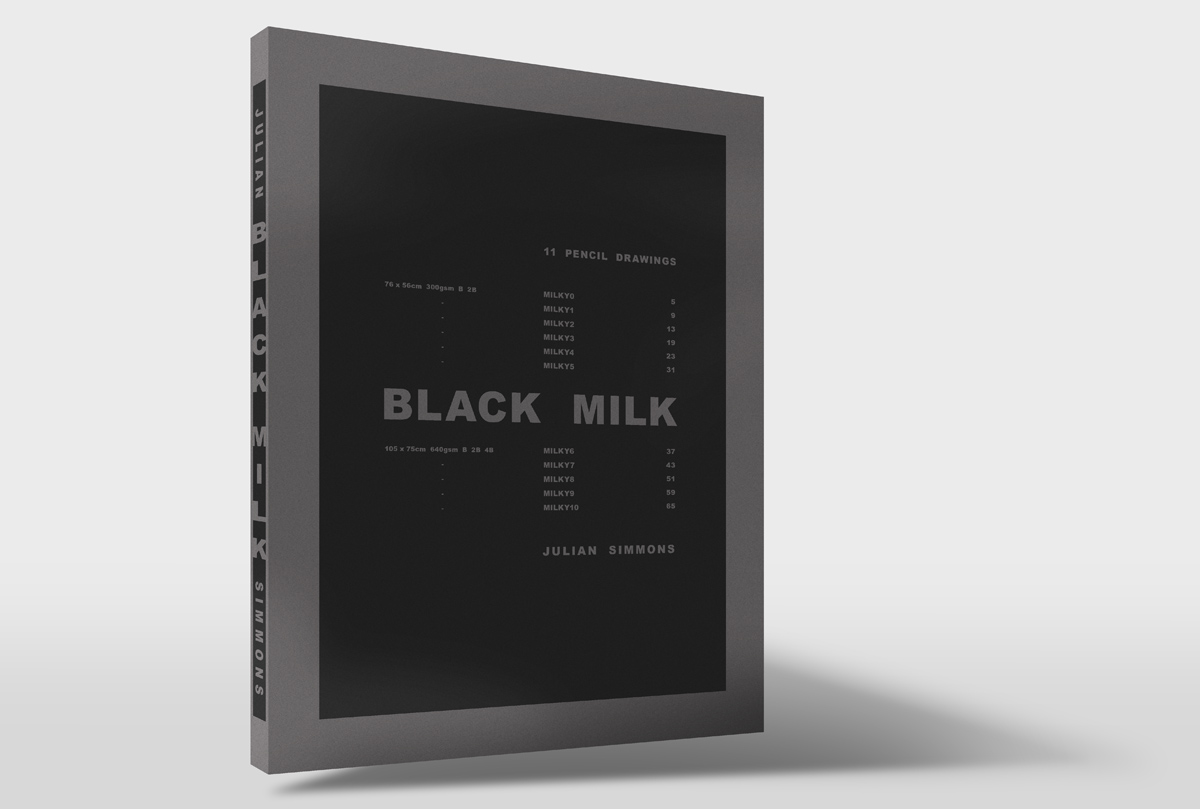 Atlas and Catalogue – 11 Orbicular Drawings | Text – Cosmological Tone
Published to coincide with the exhibition NOW JULIAN SIMMONS
55 photographs, 5 diagrams, 12,000 words | Bespoke ultra-dark graphite silvered ink | 72 pages : 200gsm Fedrigoni paper | Matt-laminate softback : 290gsm Fedrigoni grey card | 30.6 x 23.7 cm
Privately Published : Julian Simmons 2015 | Limited Edition : 500 copies | Printing : The Five Castles Press UK
Artworks, Photographs, Text, Design, Layout : Julian Simmons
£20 excl. shipping
---
Short-run edition – limited copies still available from :
Lychee One, 38-50 Pritchards Road, London E2; Tues – Sat, 12 – 6pm
Lychee One, mail-order
ICA Bookshop, The Mall, London SW1Y 5AH; Tues – Sun, 11am – 9pm
---
'Looks great.  It covers life, the whole universe and everything.'  Mat Collishaw.
'Black Milk really is something.  And something else.
As I read it I kept thinking of William Blake.  And then there he was.'  Angus Cook.
'Terrific show – the technique alone is amazing, but the effects … I've just been reading up astro- and sub-atomic physics, so I was right at home there, and the eye as mediator between the two. Loved the paper-maker's eyelash as well. It reminds me of the obscure story about Elizabeth the First and a comet over London.
ps. 'the throb of the artery'! – I didn't know that was Blake. Yeats pinched that line, what a rogue.'  Peter Walker.
…yes the eyelash! – of an Italian paper-maker – must have been wiping his or her brow after their partner revealed they were having an affair …or some such. Amazingly invisible before the drawing …the drawing revealing it detective-like, as if a message were blindly indented into a notepad. So yes within Yeats is Blake, and knocking about probably a few other poets also; always worth standing on the shoulders of the high-points of civilisation.
---
PHOTOGRAPHS
In this publication I hint at what may be seen from encouraging a sideways gaze.  While to an extent I appreciate the reasoning for photographically recording flat works flat on – as for many works this is the perpendicular in which they were made and intended to be subsequently viewed, but this isn't how I approached considering or making these drawings.
These are drawings that positively seek and respond to being viewed from all acute and obtuse angles, and under changing angles of natural light; hence their curious nature from the side – they begin to protrude and sink.
Aesthetically they correspond to the not-flat not-3D undetermined dimensions of mental space – and it's state of knowledge that fuels primitive imaginings.
TEXT
Many moons ago I wrote a book entitled – NUMINOUS IMAGE AS COSMOLOGICAL MONOGRAPH; it exists in only three copies, and employed a printing method I would further develop for the limited edition large-format tome, PENETRALIA.
It recently struck me that many of it's subjects on cosmological tone were feeding these current drawings.
With the request "I need 28 pages of text" I handed a copy over to Sarah Lucas …the extracts in this publication are those that she selected.