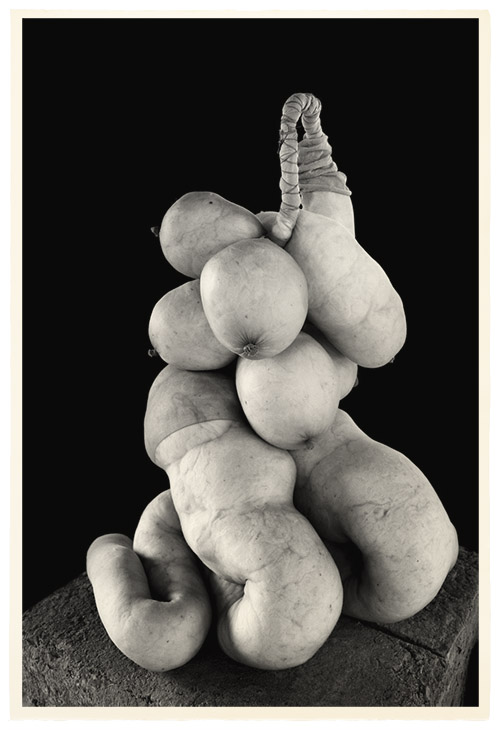 TITTIPUSSIDAD prints of texts, portraits and Sarah Lucas sculptures. Photographs and printing by Julian Simmons. Each in an edition of 6. Giclee inkjet, archival full-strength carbon-black pigment.
Order Enquiries / Availability: PAUL STOLPER, 31 Museum Street, London WC1A 1LH.
---
15 framed prints, on Velin BFK Rives fine-art printmaking paper, mould-made, 100% cotton rag, no optical brighteners, 280gsm, signed and numbered on verso. Sheet size: 112.5 x 76.5 cm, framed size: 119 x 83 cm.
SHEELA-NA-GIG II 1
OAXACA NUD 1
OAXACA NUD 2
OAXACA NUD 3
DAD LIST
TITTIPUSSIDAD TREE
LUPE
XOCHIPILLI
SARAH SMOKING
STARMEN (ARMATURE)
STARMAN SEE THROUGH THEIR NIPPLES
PRINCE OF FLOWERS
REALIDAD 2
HOOLIAN
REALIDAD 1
+ large-scale wallpaper print, on 6 vertical strips of 55cm wide roll-paper, for direct pasting onto a wall, or framed backed with canvas;
total size: 231 x 326 cm.
SHEELA-NA-GIG II
---
Exhibition:
16 January – 7 February 2015, Paul Stolper, 31 Museum Street, London WC1A 1LH / press release
4 – 7 December 2014, Art Basel – Miami Beach. Paul Stolper, Stand B22.
26 – 29 May 2016, Art-Athina 2016, Greece. Paul Stolper, Stand B2.
---
'I'm in your show now, standing before your work and it looks AWESOME! ..and, yes, that is undoubtedly how Star-Men see!
Amazing quality printing, unbelievable. Lovely work, keep going ! Avanti !', Gregor Muir, Executive Director of the ICA.
"They're very desirable and sexy", Norman Rosenthal
"…so just like your good self !", Hoolian Simmons
"…and you – you're desirable and sexy aren't you?…", Norman Rosenthal
"…I'd say !", Sarah Lucas.
Installation Photographs & Individual Works . . .