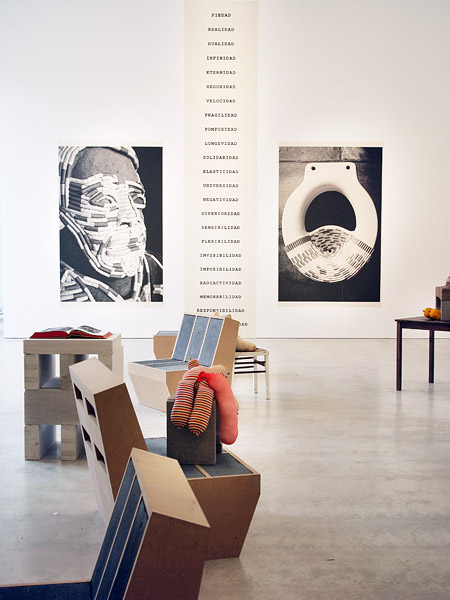 CONTEMPORARY FINE ARTS GALERIE GMBH, Am Kupfergraben 10, 10117 Berlin.
13 June – 31 July 2014, opening 12 June 2014 / invite card
New series of 12 limited-edition prints by Julian Simmons from the book TITTIPUSSIDAD, 252 x 161 cm (vertical images), 231 x 330 cm (horizontal images), 520 x 110 cm (the 'DAD' list).
REALIDAD  p.110-111
REALIDAD  p.121
REALIDAD  p.120
SHEELA-NA-GIG-I  p.307
SHEELA-NA-GIG-II  p.191
SHEELA-NA-GIG-II  p.4-5
BRICK FACTORY  p.58-59
CIGARETTE CHRIST  p.433
BENITO  p.517
DAD-LIST  p.13
COMMUNISTA  p.225
OBSIDIAN  p.201
Edition of 6. Printed by myself on off-white heavyweight paper, dead-matt finish, with full-strength carbon-black pigment. Supplied as rolled wallpaper in multiple vertical strips for direct pasting onto a wall, or framed backed with canvas.
Order Enquiries / Availability: CONTEMPORARY FINE ARTS, Am Kupfergraben 10, 10117 Berlin.
.
TITTIPUSSIDAD prints: REALIDAD p.121 [231 x 110cm], REALIDAD p.110-111 [231 x 328cm], REALIDAD p.120 [231 x 110cm]
TITTIPUSSIDAD prints: SHEELA-NA-GIG-I p.307 [252 x 161cm], BRICK FACTORY p.58-59 [231 x 328cm], SHEELA-NA-GIG-II p.191 [252 x 161cm]
TITTIPUSSIDAD prints: SHEELA-NA-GIG-II p.4-5 [231 x 330cm]
TITTIPUSSIDAD prints: installation view / SHEELA-NA-GIG-I p.307 [252 x 161cm], BRICK FACTORY p.58-59 [231 x 328cm], SHEELA-NA-GIG-II p.191 [252 x 161cm]
TITTIPUSSIDAD prints: CIGARETTE CHRIST p.433 [231 x 164cm] / BENITO p.517 [252 x 161cm], DAD-LIST p.13 [520 x 110cm], COMMUNISTA p.225 [252 x 161cm]
TITTIPUSSIDAD prints: OBSIDIAN p.201 [252 x 161cm], PATRICK MORE (bronze sculpture) Sarah Lucas 2013, CIGARETTE CHRIST p.433 [231 x 164cm] / EXCUSADO REVISITADO portrait of Sarah Lucas (photographic print)
TITTIPUSSIDAD prints: 'the nob & bollocks' – BENITO p.517 [252 x 161cm], DAD-LIST p.13 [520 x 110cm], COMMUNISTA p.225 [252 x 161cm] / OBSIDIAN p.201 [252 x 161cm]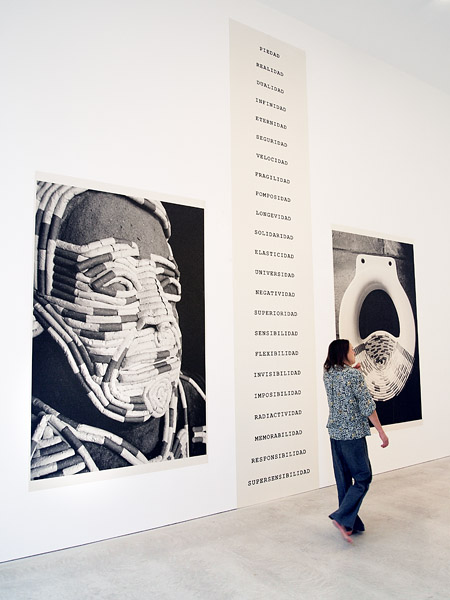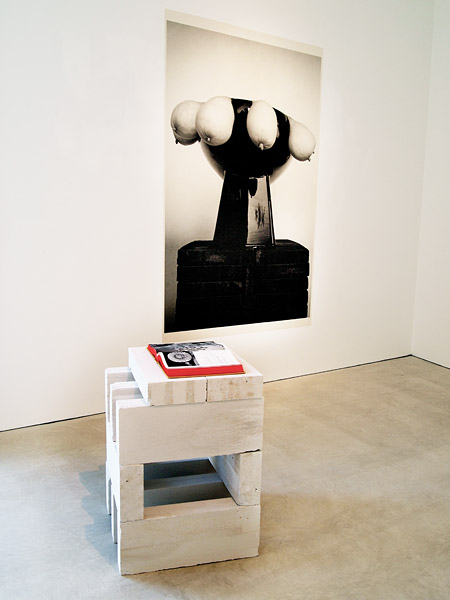 < The new 12 print series
+ EXCUSADO REVISITADO < the portrait edition
+ TITTIPUSSIDAD < the book
+ REALIDAD < the film
at CFA Berlin