Sarah Lucas talks to friend and artist Don Brown about her new works, installed in the British Pavilion at the Venice Biennale 2015; with subjects ranging between toilets as a human portrait, palpable casting techniques, toplessness – top-off and top-on, a bum or a vagina is a face, the subliminal use of eggs – including the dessert floating-islands, nude sculptures are close friends; and she has a few slices of SPAM with a glass of Aspall Premier-Cru cider.
Filmed at the British Pavilion, Giardini Di Castello, Venice, April 2015.
Director / Camera / Editor : Julian Simmons
Sound : Julian Simmons [in case you hadn't noticed the microphone is clipped to Sarah's left nipple, if a microphone (i.e. basically a nob) is required, why hide it?]
Commissioned by : the Visual Arts Department, British Council
Produced by : Julian Simmons 2015
56th International Art Exhibition, La Biennale Di Venezia, 9 May – 22 November 2015
13 minutes | FHD 25fps broadcast PAL* | Stereo 48kHz
*25fps displays optimally on 50Hz UK/Europe LCD TVs – use the Vimeo app on a Smart TV & search for I SCREAM DADDIO.  (Most computer LCD screens run at 60Hz and require intermittent frame-doubling / pull-down, to display 25fps).
---
The 90 minute UHD film documenting Sarah Lucas at work, and at life, in the crazy months leading-up to the Venice Biennale, will be appearing later this year – check back for UK screening details.
For professional broadcast rights [BBC, C4, SKY ARTS, BFI, or other] email your ~90+ minute screening & distribution proposition.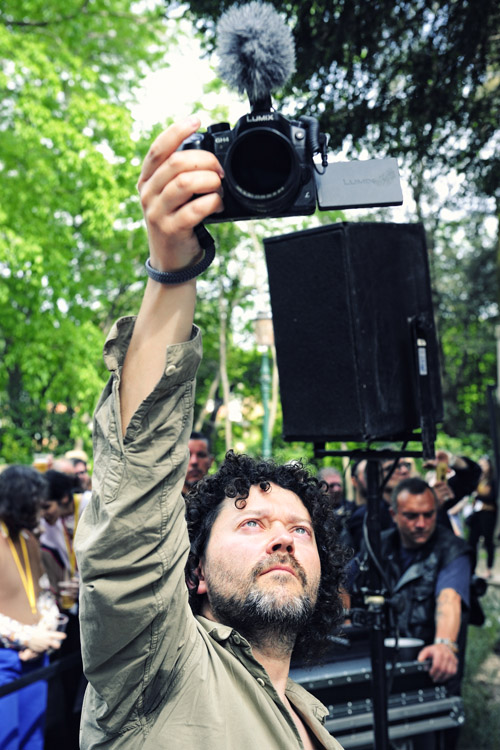 Myself in-front of the barricade, filming the band '100% Beefcock and the Titsburster' who opened I SCREAM DADDIO, the British Pavilion, Venice, on the 6th May 2015.  Photo : Cristiano Corte (wearing earplugs, yes it was very loud!).
---
+ if you haven't seen the exhibition's accompanying publication : I SCREAM DADDIO