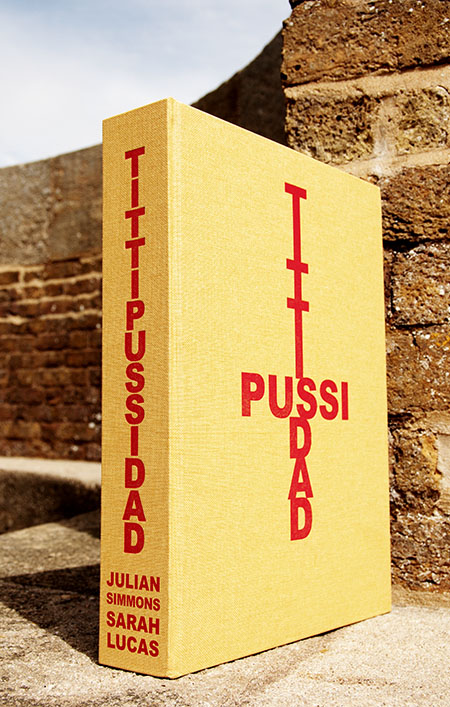 ORDER  / BUY NOW from Sadie Coles HQ [UK/worldwide] | D.A.P. [U.S.] | KARMA [New York] | kurimanzutto [Mexico] | CFA [Germany] | KOENIG [worldwide] | AMAZON
---
TITTIPUSSIDAD | Sarah Lucas in Mexico – a book by Julian Simmons | Edition 1200 copies | ISBN 978-0-9926556-0-0 | £120
Hardback | 648 pages | 705 photographs | 41,000 words | Sewn-section cold-glue binding | Edge-coloured | 340 x 253 x 58mm
Sculptures Sarah Lucas 2012, made in Oaxaca 27 March – 12 April 2012, "It's the bible this fucking book!", Sarah Lucas. An exhibition at Anahuacalli Museo Diego Rivera 20 April – 8 July 2012, Mexico City, Dir. Hilda Trujillo Soto, in collaboration with José Kuri, kurimanzutto, Mexico City; "This is a historic object", José Kuri.
---
'For Anahuacalli in Mexico City I wanted to make the sculptures in Mexico. Knowing that Nuds will tap into the forces that surround them, the enchantment of the place, and its spirits. I chose Oaxaca for the making process. Or perhaps it chose me.
Even the most ordinary materials are subject to variation country to country. One can either get het up about that or go with the flow. The flow is where the life is, and the surprising things. On the street, in bars, in the marketplace. Tracking down stuff is a good way to get to know a town. The one thing leads to another.
Everything you need is around you somewhere, always. Of course you have to make a start.
Start by not thinking it's elsewhere', Sarah Lucas.
"I didn't run into any problems, it just sort of went – it had the wind behind it, or a volcano.
We made a book from our experience, a storybook with pictures about the time we spent there. It's not like a catalogue or anything – it is an artwork in itself. Julian, my partner, took all the pictures and he made the book. It's the story of our time there, the whole story. Is it life-altering? I guess everything is, in a way. It was an exercise in conviction. I got to know these people – Diego Riviera, Alejandro Jodorowsky – I got so clear with them by being there, as well as some of the old Gods. It was a brilliant trip, how do you do that again? I don't know. But things as good as that? Yes please!", Sarah Lucas [interview with AnOther Magazine].
---
'I am writing to tell you that TITTIPUSSIDAD is from now on, one of my favourite books ever! It is so intimate and delicate in many ways, almost like a film. Very inspiring and moving', Monica Manzutto, kurimanzutto gallery, Mexico DF.
'One of the most impressive and memorable books I've seen, in a very long time. Very magical indeed, considering it documents less than 1 month of work in so many pages and remains compelling throughout. Congratulations', managing editor 032c.
'It's the good book! A work of art in its own right', Jonathan Caplan Architects, New York.
"You're my competition", Mario Testino, photographer.
'I am totally blown over by your new book: 'Tittipussidad'. It is so cohesive, beautifully designed and printed, one of the best Artist Books I have seen in a while. Deeply in awe! Respect!', Sylvie Liska, Secession, Vienna.
"It's a weapon!", Renata Salecl, philosopher, sociologist & legal theorist.
'This is how art-books should be!', Brian Henderson, architect of Sizewell B nuclear power station.
---
REVIEWS:
'TITTIPUSSIDAD is this Season's Mother Lode of Art Books', 032c, read the full review in 032c issue #26 Summer 2014.
'Sarah Lucas on her life-altering time in Mexico among the Old Gods and the spirits of Jodorowsky and Rivera', full review in AnOther Magazine.
'Top Ten Art Tome', Dazed Digital.
---
UK & WORLDWIDE : available direct from the publisher Sadie Coles HQ [collection locations],  mail-order  +44 (0)20 7493 8611
Publication (c) 2013
Sarah Lucas, Julian Simmons, Sadie Coles HQ
Photographs | Design / Layout | Transcriptions
Julian Simmons 2012-13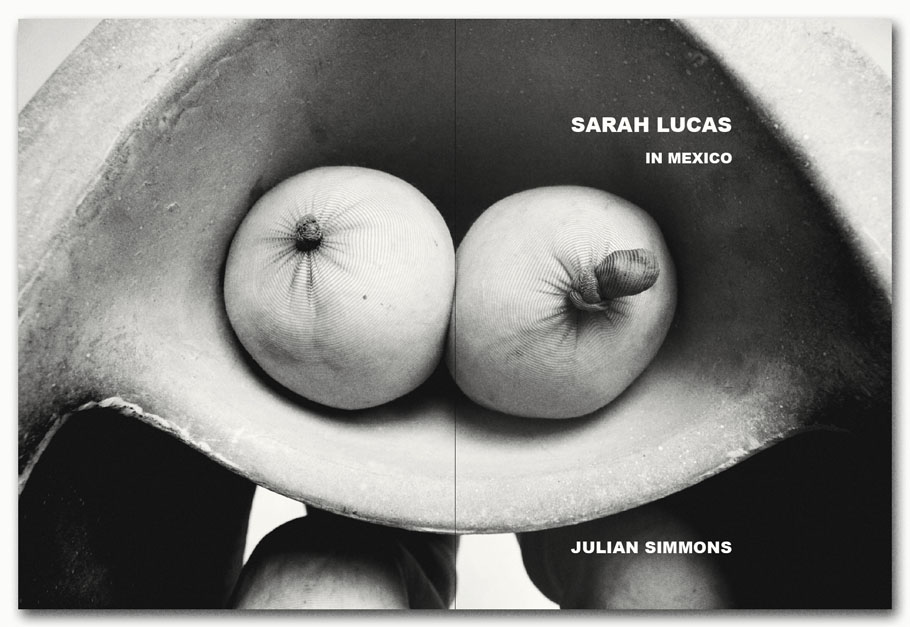 Text
Sarah Lucas, Julian Simmons, Rodolfo Díaz Cervantes, Elisa Miller, Laureana Toledo, José Kuri, Raúl Piña Perez, and Paul Harte.
Sarah Lucas in conversation with Angus Cook, Jonathan Caplan, Gregor Muir, Julian, Raúl, Rodolfo, Elisa, and Sadie Coles.
Published By
Sadie Coles HQ
Lithographic Printer | The Five Castles Press, Ipswich, UK
Paper especially made in Paris to non-standard size | Olin Cream 120gsm | FSC Mixed Sources inc. Eucalyptus Fibres | Permanent ISO 9706
| | |
| --- | --- |
| | |
| | |
| --- | --- |
| | |
| | |
| --- | --- |
| | |
| | |
| --- | --- |
| | |
| | |
| --- | --- |
| | |
"I just read something about the form of dissident publishing called Samizdat, coined by a Russian poet in the 50's.  He wrote 'Samseshyaizdat' on the space on his book where the publishers name should be.  It means 'Published by Me'.
It became a name for literature created illegally under communism.  As Bolshevik propaganda got more sophisticated in production, the scruffy Samizdat documents became more treasured as they had a whiff of the home-made about them.  They were more convincing.
'Samizdat is a medium of communication which looks poor and miserable beside the fantastic rotary press and the colour television, but which is an unusually powerful and indestructible force.  It is written by someone who has something to say.. When I take it in my hand, I know that it costs someone a good deal to write it, without an honorarium and at no little risk..'
'In effect, the physical form of samizdat itself elevated the reading of samizdat to a prized clandestine act.'
Basically, primitively made books became a bit of a fetish.
I know your work and publications are highly sophisticated but they've also got this intimately dangerous quality about them.
Thought I'd share that with you."  Mat Collishaw.
---
PRESS RELEASE :
Sadie Coles HQ is pleased to announce the publication of TITTIPUSSIDAD, a new book documenting Sarah Lucas's odyssey to Mexico last spring. The book has been conceived, designed and edited by Julian Simmons. Encyclopaedic in size and scope, TITTIPUSSIDAD traces Lucas's time in Mexico from a trip to a brick factory in the Valley of Oaxaca (to source bricks to make plinths) to the creation of the sculptures, to their final exhibition at the Museo Diego Rivera Anahuacalli. This exhibition marked a significant development in Lucas's art, as her NUD sculptures – stuffed tights twisted into abstract contortions – developed into playful and perverse anthropomorphic characters.
Combining the genres of exhibition catalogue, diary, photographic essay and epic poem, TITTIPUSSIDAD unfolds a vivid and nostalgic account of the trip to Mexico. Interleaving colour and black-and-white photographs, Simmons has produced an unparalleled study into the way in which Lucas's life informs and shapes her art. Each chapter focuses on a separate work in a sequence of close-up black-and-white shots in dramatic chiaroscuro, interspersed with images from Mexican streets, bars and houses. The images explore the different figures – huddling or sprawling, with breast-like appendages and bulbous limbs – with an almost pornographic intensity, scrutinising their surface textures and their variously firm and flaccid structures.
The book features a series of conversations with Lucas's various friends – interwoven to create a revealing and intimate dialogue with the artist about the making of the series. The tone and typography of the words shifts, taking us from poetic musings to explanations of the works and their titles. From the prologue, which offers an account into the Dada-esque wordplay of Lucas's titles, to the ecclesiastical-style images of the installation at the Museo Diego Rivera, TITTIPUSSIDAD provides an emotive account of a pivotal moment in the artist's life and career.
---
UK & WORLDWIDE : available direct from the publisher Sadie Coles HQ [collection locations],  mail-order  +44 (0)20 7493 8611
U.S. : Distributed Art Publishers,  MEXICO : kurimanzutto
---
Also available, large-scale images from the book : Wallpaper Prints
Companion documentary film : REALIDAD