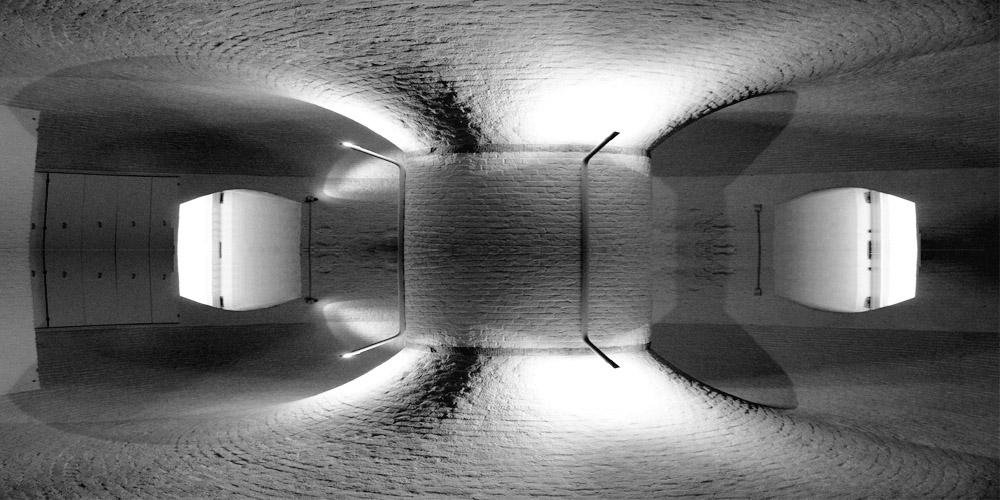 QUAD NIGHT
As part of Russell Haswell's three-day residency at Cafe OTO [5-7 Nov], I shall be performing solo on day-two : Friday 6th November 2015.
No samples, whether of acoustic instruments, synthesised pre-generated sounds or field recordings; all sounds – plucked and densely bowed strings, even what you'll hear as the sea, are generated live on the spot – mathematically.
"A strange aerial zone was occupied and animated – I've never experienced sound to enter and affect me like that before."
"When you played last night I closed my eyes and just let the sounds take over in the dark; it felt like your music went into my brain and created new synapses – how mad is that!"
Details of the event, visit :
CAFE OTO, 18–22 Ashwin street, Dalston, London, E8 3DL. UK  [NB tickets are often sold out on the night of a gig, space is limited, buying tickets in advance is recommended]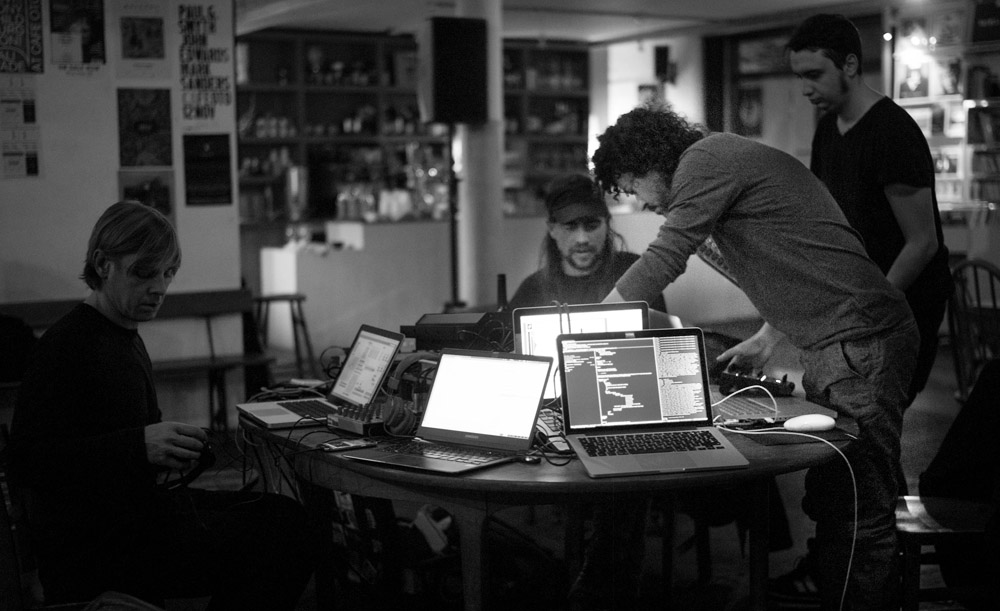 "We need a bigger table!!",  "Chill out man, there's enough room"
Photos : Nik Gaffney – Farmers Manual
---
Electronic-mathematic instruments built in Pure Data, and diffusing in a 4-speaker surround-sound environment.
Julian Simmons based in Suffolk UK, has emerged as something of a mystery. Haswell claims to have first been confronted by him in 2007 materialising from a blackthorn hedge, and bizarrely immediately asking Simmons "are you one of those people who what they say can program people to act differently?", this is possibly why he's sometimes known as 'Acid Man', even though that's not his method. He sites his major influence as Early Man.
In the 90's Simmons had 5 of the 8 output-data pins of a BBC Micro Model B's parallel-port wired to a couple of stepper motors [X + Y] + a solenoid [Z], and so developed an axis machine capable of employing various grades of pencil to produce densely layered cross-hatched drawings. Research into cosmological tone led to a PhD in 2004. A few years later this intensity for layered tonal detail was applied through Pure Data to produce electroacoustic instruments and compositions. Since 2013 this has continued with sonic research directed through 4-channel surround: live positioning of multiple instruments within quad environments being an essential component to these 'NUMBERSTREAM' performances.
Simmons rejected aggressive drum-machines, pre-built sound generators, samples, and even western scales, focusing rather on the mathematical low-down physical-modelling of sharply plucked and fever-pitch bowed sounds, glissando on occasion. High-frequency, finely textured, dilated, maximum information. White-noise presented as a rude source of dare we say it, elevation; this is the mantle that Dr. Simmons has developed from perfecting the transformative 'string' algorithm known and pioneered by Karplus and Strong [is their patent still in place?!].
'A dark and abstract work which reverberates around the space, omnipresent and powerful. The sound purples and shimmers like a darkening bruise, deliciously discordant and completely immersive', The Journal of Wild Culture.
Haunting > Meditative > Discordant > Precise > Elevating : following descriptive directions as a score, pieces are composed with experimental time frames, freedom of distorted pitches, and dissected flypast instruments.
Aerial emergency is an instrument.
---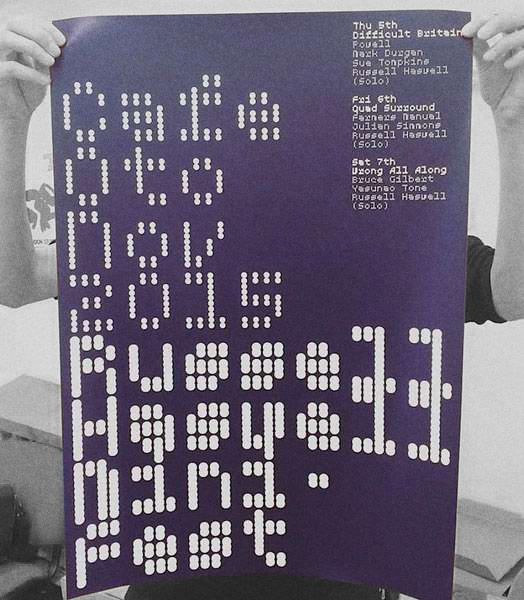 Poster design : MuirMcNeil – available from : Cafe OTO
---
QUAD SURROUND NIGHT: Friday 6th November 2015, Cafe OTO, London.
Russell Haswell
Julian Simmons
Farmers Manual
Grumbling Fur (DJ)
8pm start, doors open ~30min before, performances finish around 11pm, licensed until 12:30am.